Trump faces federal charges for efforts to overturn 2020 election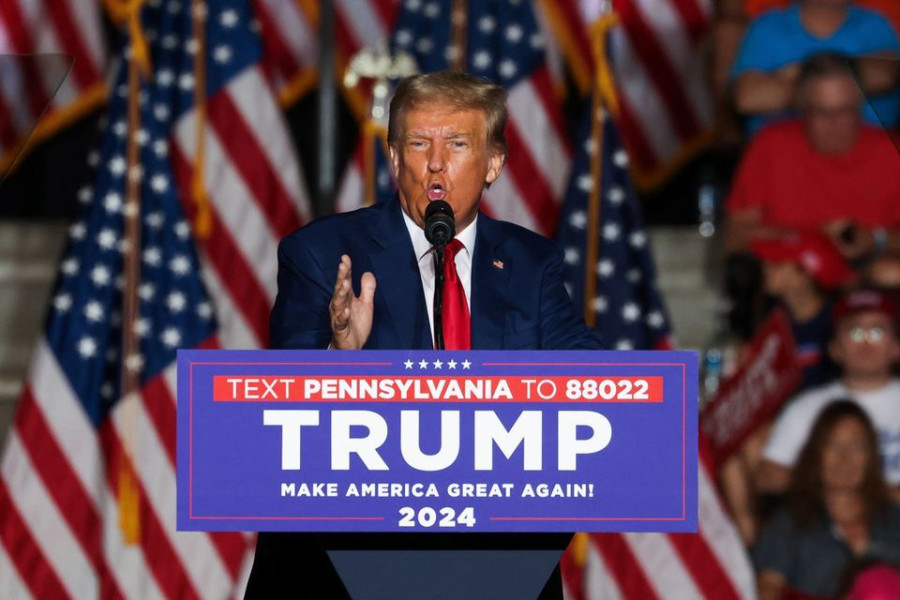 Donald Trump was indicted on Tuesday for his wide-ranging attempts to overturn the 2020 election, the third time in four months that the former US president has been criminally charged even as he campaigns to regain the presidency next year.
The four-count, 45-page indictment charges Republican Trump with conspiring to defraud the US by preventing Congress from certifying Democrat Joe Biden's victory and to deprive voters of their right to a fair election.
Then-President Trump pushed fraud claims he knew to be untrue, pressured state and federal officials – including Vice President Mike Pence – to alter the results and finally incited a violent assault on the US Capitol in a desperate attempt to undermine American democracy and cling to power, prosecutors said. Trump was ordered to make an initial appearance in federal court in Washington on Thursday.
The case has been assigned to US District Judge Tanya Chutkan, who was appointed by Trump's predecessor Barack Obama.
The charges stem from Special Counsel Jack Smith's sprawling investigation into allegations Trump sought to reverse his loss to Biden.
Despite a dizzying and growing array of legal troubles, Trump has solidified his status as the front-runner for the Republican presidential nomination, according to public opinion polls.
Weeks of assertions that the election had been stolen culminated in a fiery Trump speech on January 6, 2021, as Congress met to certify the results.
Soon after, his supporters stormed the US Capitol in a bid to stop Congress from formalizing Biden's victory.
In a brief statement to reporters, Smith placed the blame for the violence squarely on Trump's shoulders.
"The attack on our nation's Capitol on January 6, 2021, was an unprecedented assault on the seat of American democracy. As described in the indictment, it was fueled by lies – lies by the defendant, targeted at obstructing the bedrock function of the US government," Smith said. More than 1,000 people have been arrested in connection with the attack. Trump and others organized fraudulent slates of electors in seven states, all of which he lost, to be certified as official by Congress on Jan. 6, the indictment said.
The indictment lays out numerous examples of Trump's election falsehoods and notes that close advisers, including senior intelligence officials, told him repeatedly that the results were legitimate. These claims were false, and the defendant knew that they were false," prosecutors wrote.
When the push to certify the fake electors failed, Trump sought to pressure Vice President Mike Pence not to allow certification of the election to go forward, and took advantage of the chaos outside the Capitol to do so, according to prosecutors.
During the violence, Trump rebuffed calls from his advisers to issue a calming message. The Defendant attempted to use a crowd of supporters that he had gathered in Washington, DC to pressure the Vice President to fraudulently alter the election results," the indictment reads.
In a statement, the Trump campaign said he had always followed the law and characterized the indictment as a "persecution" reminiscent of Nazi Germany.
"President Trump will not be deterred by disgraceful and unprecedented political targeting!" it added. Later Tuesday, Trump's campaign sent out a fundraising email referencing the indictment. The indictment also includes six unnamed co-conspirators who have not been charged.
Based on the descriptions, they appear to include Trump's former personal lawyer Rudy Giuliani, who called state lawmakers in the weeks following the 2020 election to pressure them not to certify their states' results; former Justice Department official Jeffrey Clark, who tried to get himself installed as attorney general so he could launch voter fraud investigations in Georgia and other swing states; and attorney John Eastman, who advanced the erroneous legal theory that Pence could block the electoral certification.
"Every statement that Mayor Giuliani made was truthful and expressing his beliefs," his attorney Robert Costello told Reuters. "He believed there was proof of election fraud, and I have seen the affidavits that back that up."
Eastman lawyer Charles Burnham said in an email the indictment used a "misleading presentation of the record to contrive criminal charges against Presidential candidate Trump and to cast ominous aspersions on his close advisors. Clark did not respond to requests for comment.
The most serious charge against Trump carries a maximum penalty of 20 years in prison, though sentencing is based on numerous factors and is subject to the judge's discretion.
Trump already had become the first former US president to face criminal charges. He has portrayed all of the prosecutions as part of a politically motivated witch hunt aimed at preventing his return to power.
Tuesday's charges represent a second round of federal charges by Smith, who was appointed special counsel in November by US Attorney General Merrick Garland.
Trump pleaded not guilty after a federal grand jury in Miami convened by the special counsel charged him in June in a 37-count indictment over his unlawful retention of classified government documents after leaving office in 2021 and obstructing justice. Prosecutors accused him of risking some of the most sensitive US national security secrets.
Last Thursday, prosecutors added three more criminal counts against Trump, accusing him of ordering employees to delete security videos as he was under investigation for retaining the documents.
In March, a grand jury convened by Manhattan's district attorney indicted him for falsifying business records to hide hush money payments to porn star Stormy Daniels before the 2016 election about a sexual encounter she said she had with him. Trump pleaded not guilty and has denied the encounter. Trump, 77, leads a crowded field of Republican presidential candidates as he seeks a rematch with Biden, 80, next year.
Trump, who served as president from 2017 to 2021, has shown an ability to survive legal troubles, political controversies and personal behavior that might sink other politicians. Many Republicans – elected officials and voters – have rallied behind Trump, portraying the charges against him as selective prosecution and a Democratic plot to destroy him politically.
That pattern largely held on Tuesday, as most Republicans pivoted to attacks on Biden. House Speaker Kevin McCarthy, the top Republican in Congress, said on X, the site formerly known as Twitter, that the indictment was an attempt to "attack the frontrunner for the Republican nomination."
Florida Governor Ron DeSantis, Trump's leading rival for the Republican nomination, said on X that he had yet to read the indictment. But he vowed to "end the weaponization of the federal government," suggesting that the Biden administration was using the charges to target a political enemy.
Strategists said that while the indictments could help Trump solidify support within his base and win the Republican nomination, his ability to capitalize on them may be more limited in next year's general election, when he will have to win over more skeptical moderate Republicans and independents.
Meanwhile, Trump's legal woes are growing. In addition to the three indictments, Trump faces a fourth criminal investigation by a county prosecutor in Georgia into accusations he sought to undo his 2020 election loss in that state.
Fulton County District Attorney Fani Willis has indicated she plans to bring charges in that case within the next three weeks.
Special counsels are sometimes appointed to investigate politically sensitive cases, and they do their jobs with a degree of independence from the Justice Department leadership.
Before being appointed by Garland to take over the two Trump-related investigations, Smith had served as the chief prosecutor for the special court in The Hague, assigned to prosecuting war crimes in Kosovo, oversaw the Justice Department's public integrity section and worked as a federal and state prosecutor in New York.
Source: eNCA
In other news – Cassper Nyovest Mocked By Fans For Being Scared Of Eminem
Cassper Nyovest refuses to accept a challenge against American rapper Eminem. The genesis of the event started with a tweet of the international star's photo, captioned, "Eminem just dissed your country.
Which rapper is responding?" Twitter users suggested different rappers and a fan of Nyovest suggested him. Read more
EU crisis management chief slams attack on West Bank school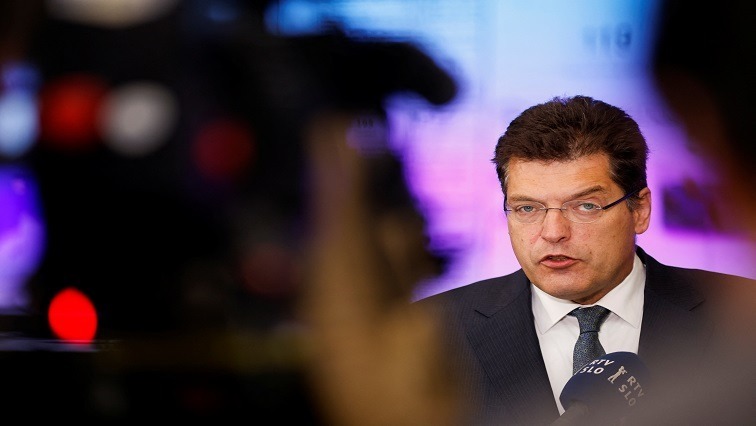 The European Union's commissioner in charge of the bloc's crisis management condemned on Wednesday an attack by Israeli settlers on a school in Zanuta, a Palestinian village situated in the Israeli military-occupied West Bank.
"Israeli settlers demolished a school in Zamuta, a village in the occupied #Palestinian Territory," Janez Lenarcic, the EU's Commissioner for Crisis Management, wrote on social media platform X, using an alternative spelling for Zanuta. The school was built by EU funds – because every child, everywhere has a right to education. This destruction is intolerable and a violation of International Humanitarian Law," added Lenarcic, who also deals with humanitarian aid.
Earlier this week, the United States began imposing visa bans on people involved in violence in the West Bank, after it and other countries appealed to Israel to do more to prevent violence by extremist Jewish settlers against Palestinians.
The Israel military occupied the West Bank, which Palestinians want as the core of an independent state, in a 1967 Middle East war. Israeli settlers have since built Jewish settlements there that most countries deem illegal. Israel disputes this and cites historical and biblical ties to the land.
The West Bank is home to 3 million Palestinians who live among more than half a million Jewish settlers. Continued settlement expansion is one of the most contentious issues between Israel, Palestinians and the international community.
Source: eNCA
In other news – No girlfriend allowance from Sjava
Well-known South African singer and rapper, Sjava doesn't support the idea of giving girlfriends allowances.
The musician made this known while speaking on a media platform. Read more
U.S. unlikely to rethink weapons supplies to Israel
Facing a soaring death toll from Israel's renewed offensive in southern Gaza, the Biden administration is trying to pressure its ally to minimize civilian deaths while stopping well short of the kind of measures that might force it to listen, such as threatening to restrict military aid.
Top United States officials, including Vice President Kamala Harris and Secretary of State Antony Blinken, have urged Israel publicly to conduct a more surgical offensive in the south to avoid the heavy civilian casualties inflicted by its attacks in the north.
About 900 people in Gaza were killed in Israeli airstrikes between Friday when a truce ended and Monday, according to Gaza's Health Ministry, about the same number killed in strikes in Gaza over the four days following the Hamas cross-border raid on Israel on October 7, though fewer than the 1 199 who died in the four days following the start of Israel's ground offensive on northern Gaza October 28. Washington is for now ruling out withholding delivery of weapons or harshly criticizing Israel as a means of changing its tactics because the U.S. believes the existing strategy of privately negotiating is effective, according to two U.S. officials.
"We think what we're doing is moving them" a senior U.S. official said, citing how Israeli Prime Minister Benjamin Netanyahu shifted from refusing to allow aid into Gaza to allowing nearly 200 trucks of assistance a day, saying those improvements were the result of intense diplomacy, not threats.
The U.S. official spoke after three days of resumed aerial bombardments of southern Gaza left residents pulling the bodies of children and adults from the rubble.
But the U.S. official said reducing military support to Israel would carry major risks. You start lessening aid to Israel, you start encouraging other parties to come into the conflict, you weaken the deterrence effect and you encourage Israel's other enemies," the official said.
The United States has called its support unwavering. The Israeli government appears unmoved by international demands to change its strategy.
"I must admit I sense that the prime minister feels zero pressure, and that we will do whatever it takes to achieve our military goals," Netanyahu's foreign policy adviser Ophir Falk told Reuters last week when asked about the international pressure on Israel.
The U.S. gives Israel $3.8 billion in military aid annually, ranging from fighter jets to powerful bombs that could destroy Hamas tunnels, and the Biden administration has asked Congress to approve an additional $14 billion.
Such support gives Washington "significant leverage" over how the war against Hamas is conducted, said Seth Binder, director of advocacy at The Project on Middle East Democracy.
"Withholding certain types of equipment or delaying refilling stockpiles of various arms would force the Israeli government to adjust strategies and tactics because they would not be guaranteed to have more in the pipeline," said Binder. "To date, the administration has demonstrated an unwillingness to use that leverage."
Weighing on Biden is the 2024 presidential election, even as senior aides have stepped up calls for Israeli restraint. Any attempt to cut aid could hurt the Democratic president with pro-Israel independent voters as he seeks re-election.
Biden also faces pressure from a faction of progressive Democrats who want the U.S. to set conditions on military aid to its closest Middle East ally, and for the president to support calls for an immediate ceasefire.
A senior Israeli security source said that so far there has been no change in U.S. support for Israel. "At the moment there is an understanding and there is continued coordination," said the source. "If the U.S. shifts course, Israel will have to speed up its operations and wrap things up quickly."
Fighting between Israel and Hamas resumed on Friday after a seven-day pause to exchange hostages and prisoners and deliver humanitarian aid. Israel is retaliating for an October 7 attack by Hamas militants that it says killed 1 200 people and took about 240 hostages.
Gaza's health ministry, whose data the United Nations has deemed broadly reliable, said on Monday that at least 15 899 Palestinians, 70% of them women or people under 18 whom it defines as children, have been killed in Israeli bombardments over eight weeks of warfare.
The Israeli military's offensive in northern Gaza began with intense aerial bombardment, then a large-scale ground incursion that ultimately saw Israeli forces surround and enter Gaza City, the largest settlement in the enclave.
Israeli officials say they are conducting operations in the south differently, allowing more time for non-combatants in combat areas to evacuate, but can't promise to eliminate civilian casualties.
"We are going to continue with our campaign to destroy Hamas, a campaign that the United States sees eye to eye with us about," Israeli government spokesperson Eylon Levy said on Tuesday. He repeated Israeli accusations that Hamas uses woman and children as human shields.
On Friday, Israel's military began posting grid-based maps online ordering Palestinians to leave parts of southern Gaza, directing them towards the Mediterranean coast and Rafah, near the Egyptian border. Some residents said the so-called "safe areas" where they told to go also came under fire that caused casualties.
U.S. National Security Advisor Jake Sullivan said on Monday that Washington expects the Israelis to follow through on not attacking those areas.
A second U.S. official said the fact that Israel was being more deliberate in saying what areas civilians should avoid was a sign U.S. pressure was working. The official said the U.S. wants Israel to be more precise with its strikes in southern Gaza, but it was too early to tell whether Israel had taken this advice on board.
Residents and journalists on the ground said intense Israeli airstrikes hit southern Gaza on Monday, killing and wounding dozens of Palestinians.
"All indications and reports suggest that the same pattern – of dropping heavy duty bombs and using artillery in densely populated areas – is continuing" since Israel's offensive resumed, said Omar Shakir, Israel and Palestine Director at Human Rights Watch. On Tuesday, Amnesty International said it had found that U.S.-made munitions had killed 43 civilians in two Israeli air strikes in Gaza.
Source: eNCA
In other news – Zahara's family banned from seeing the singer in hospital
Zahara's fiance,  Mpho Xaba has banned the singer's family from visiting her in the hospital. A few weeks ago, it was announced that the South African star, whose real name is Bulelwa Mkutukana is hospitalized and in a critical state due to liver-related complications.
However, the family requested privacy and prayers till their daughter recovered. It was also reported that the fiance is being supportive and ensuring that she gets well. Zimoja recently dropped an update about how Mpho pulls the plug on Bulelwa's family. Read more