US Congress passes stopgap bill to avert government shutdown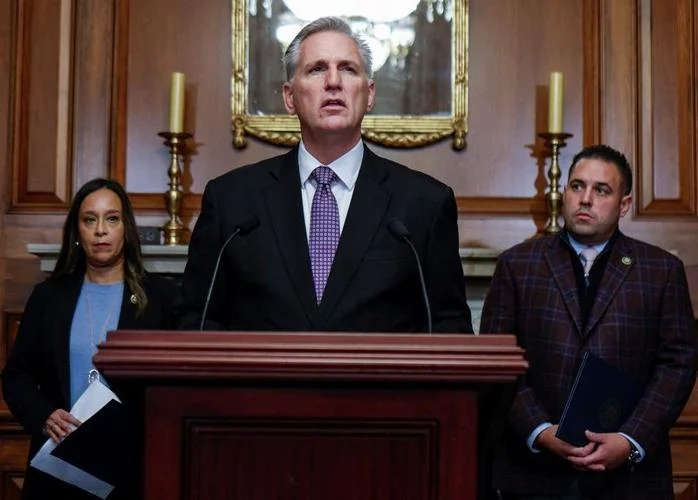 The US Congress passed a stopgap funding bill late on Saturday with overwhelming Democratic support after Republican Speaker Kevin McCarthy backed down from an earlier demand by his party's hardliners for a partisan bill. The Democratic-majority Senate voted 88-9 to pass the measure to avoid the federal government's fourth partial shutdown in a decade, sending it to President Joe Biden to sign into law before the 12:01 a.m. ET (0401 GMT) deadline.
McCarthy abandoned party hardliners' insistence that any bill pass the chamber with only Republican votes, a change that could cause one of his far-right members to try to oust him from his leadership role.
The House voted 335-91 to fund the government through Nov. 17, with more Democrats than Republicans supporting it.
That move marked a profound shift from earlier in the week, when a shutdown looked all but inevitable. A shutdown would mean that most of the government's 4 million employees would not get paid – whether they were working or not – and also would shutter a range of federal services, from National Parks to financial regulators.
Federal agencies had already drawn up detailed plans that spell out what services would continue, such as airport screening and border patrols, and what must shut down, including scientific research and nutrition aid to 7 million poor mothers.
"The American people can breathe a sigh of relief: there will be no government shutdown tonight," Democratic Senate Majority Leader Chuck Schumer said after the vote. "Democrats have said from the start that the only solution for avoiding a shutdown is bipartisanship, and we are glad Speaker McCarthy has finally heeded our message.
Some 209 Democrats supported the bill, far more than the 126 Republicans who did so, and Democrats described the result as a win.
"Extreme MAGA Republicans have lost, the American people have won," top House Democrat Hakeem Jeffries told reporters ahead of the vote, referring to the "Make America Great Again" slogan used by former President Donald Trump and many hardline Republicans.
Democratic Representative Don Beyer said: "I am relieved that Speaker McCarthy folded and finally allowed a bipartisan vote at the 11th hour on legislation to stop Republicans' rush to a disastrous shutdown."
McCarthy's shift won the support of top Senate Republican Mitch McConnell, who had backed a similar measure that was moving through the Senate with broad bipartisan support, even though the House version dropped aid for Ukraine.
Democratic Senator Michael Bennett held the bill up for several hours trying to negotiate a deal for further Ukraine aid.
"While I would have preferred to pass a bill now with additional assistance for Ukraine, which has bipartisan support in both the House and Senate, it is easier to help Ukraine with the government open than if it were closed," Democratic Senator Chris Van Hollen said in a statement.
McCarthy dismissed concerns that hardline Republicans could try to oust him as leader.
"I want to be the adult in the room, go ahead and try," McCarthy told reporters. "And you know what? If I have to risk my job for standing up for the American public, I will do that."
He said that House Republicans would push ahead with plans to pass more funding bills that would cut spending and include other conservative priorities, such as tighter border controls.
The standoff comes just months after Congress brought the federal government to the brink of defaulting on its $31.4 trillion debt. The drama has raised worries on Wall Street, where the Moody's ratings agency has warned it could damage U.S. creditworthiness.
Congress typically passes stopgap spending bills to buy more time to negotiate the detailed legislation that sets funding for federal programs.
This year, a group of Republicans has blocked action in the House as they have pressed to tighten immigration and cut spending below levels agreed to in the debt-ceiling standoff in the spring.
The McCarthy-Biden deal that avoided default set a limit of $1.59 trillion in discretionary spending in fiscal 2024. House Republicans are demanding a further $120 billion in cuts.
The funding fight focuses on a relatively small slice of the $6.4 trillion U.S. budget for this fiscal year. Lawmakers are not considering cuts to popular benefit programs such as Social Security and Medicare.
"We should never have been in this position in the first place. Just a few months ago, Speaker McCarthy and I reached a budget agreement to avoid precisely this type of manufactured crisis," Biden said in a statement after the vote. "House Republicans tried to walk away from that deal by demanding drastic cuts that would have been devastating for millions of Americans. They failed.
Source: SABC
In other news – DJ Zinhle opens up about her relationship with AKA's girlfriend Nadia Nakai
It's not often that two women who've been in a relationship with the same man get along. However, in the case of musicians DJ Zinhle and Nadia Nakai, it's more than just a relationship that the pair has built – they have a sisterhood.
Speaking to Sunday World about their relationship, Zinhle said that before AKA's untimely passing, she and Nadia hardly spent time together. We were never really intentional about the relationship, but there was never really anything that we had against each other. Read more
EU crisis management chief slams attack on West Bank school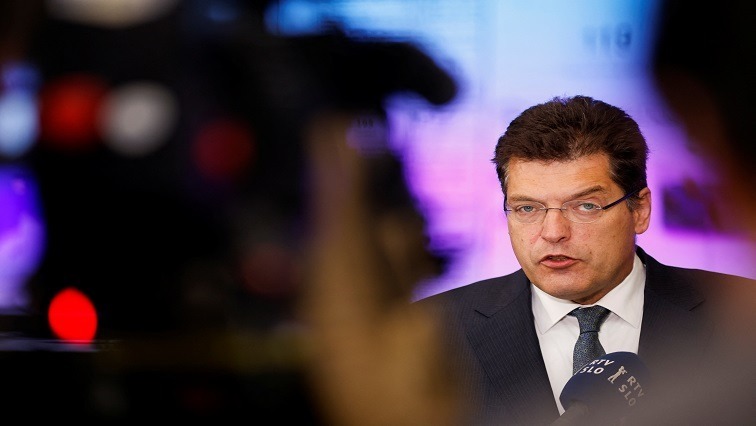 The European Union's commissioner in charge of the bloc's crisis management condemned on Wednesday an attack by Israeli settlers on a school in Zanuta, a Palestinian village situated in the Israeli military-occupied West Bank.
"Israeli settlers demolished a school in Zamuta, a village in the occupied #Palestinian Territory," Janez Lenarcic, the EU's Commissioner for Crisis Management, wrote on social media platform X, using an alternative spelling for Zanuta. The school was built by EU funds – because every child, everywhere has a right to education. This destruction is intolerable and a violation of International Humanitarian Law," added Lenarcic, who also deals with humanitarian aid.
Earlier this week, the United States began imposing visa bans on people involved in violence in the West Bank, after it and other countries appealed to Israel to do more to prevent violence by extremist Jewish settlers against Palestinians.
The Israel military occupied the West Bank, which Palestinians want as the core of an independent state, in a 1967 Middle East war. Israeli settlers have since built Jewish settlements there that most countries deem illegal. Israel disputes this and cites historical and biblical ties to the land.
The West Bank is home to 3 million Palestinians who live among more than half a million Jewish settlers. Continued settlement expansion is one of the most contentious issues between Israel, Palestinians and the international community.
Source: eNCA
In other news – No girlfriend allowance from Sjava
Well-known South African singer and rapper, Sjava doesn't support the idea of giving girlfriends allowances.
The musician made this known while speaking on a media platform. Read more
U.S. unlikely to rethink weapons supplies to Israel
Facing a soaring death toll from Israel's renewed offensive in southern Gaza, the Biden administration is trying to pressure its ally to minimize civilian deaths while stopping well short of the kind of measures that might force it to listen, such as threatening to restrict military aid.
Top United States officials, including Vice President Kamala Harris and Secretary of State Antony Blinken, have urged Israel publicly to conduct a more surgical offensive in the south to avoid the heavy civilian casualties inflicted by its attacks in the north.
About 900 people in Gaza were killed in Israeli airstrikes between Friday when a truce ended and Monday, according to Gaza's Health Ministry, about the same number killed in strikes in Gaza over the four days following the Hamas cross-border raid on Israel on October 7, though fewer than the 1 199 who died in the four days following the start of Israel's ground offensive on northern Gaza October 28. Washington is for now ruling out withholding delivery of weapons or harshly criticizing Israel as a means of changing its tactics because the U.S. believes the existing strategy of privately negotiating is effective, according to two U.S. officials.
"We think what we're doing is moving them" a senior U.S. official said, citing how Israeli Prime Minister Benjamin Netanyahu shifted from refusing to allow aid into Gaza to allowing nearly 200 trucks of assistance a day, saying those improvements were the result of intense diplomacy, not threats.
The U.S. official spoke after three days of resumed aerial bombardments of southern Gaza left residents pulling the bodies of children and adults from the rubble.
But the U.S. official said reducing military support to Israel would carry major risks. You start lessening aid to Israel, you start encouraging other parties to come into the conflict, you weaken the deterrence effect and you encourage Israel's other enemies," the official said.
The United States has called its support unwavering. The Israeli government appears unmoved by international demands to change its strategy.
"I must admit I sense that the prime minister feels zero pressure, and that we will do whatever it takes to achieve our military goals," Netanyahu's foreign policy adviser Ophir Falk told Reuters last week when asked about the international pressure on Israel.
The U.S. gives Israel $3.8 billion in military aid annually, ranging from fighter jets to powerful bombs that could destroy Hamas tunnels, and the Biden administration has asked Congress to approve an additional $14 billion.
Such support gives Washington "significant leverage" over how the war against Hamas is conducted, said Seth Binder, director of advocacy at The Project on Middle East Democracy.
"Withholding certain types of equipment or delaying refilling stockpiles of various arms would force the Israeli government to adjust strategies and tactics because they would not be guaranteed to have more in the pipeline," said Binder. "To date, the administration has demonstrated an unwillingness to use that leverage."
Weighing on Biden is the 2024 presidential election, even as senior aides have stepped up calls for Israeli restraint. Any attempt to cut aid could hurt the Democratic president with pro-Israel independent voters as he seeks re-election.
Biden also faces pressure from a faction of progressive Democrats who want the U.S. to set conditions on military aid to its closest Middle East ally, and for the president to support calls for an immediate ceasefire.
A senior Israeli security source said that so far there has been no change in U.S. support for Israel. "At the moment there is an understanding and there is continued coordination," said the source. "If the U.S. shifts course, Israel will have to speed up its operations and wrap things up quickly."
Fighting between Israel and Hamas resumed on Friday after a seven-day pause to exchange hostages and prisoners and deliver humanitarian aid. Israel is retaliating for an October 7 attack by Hamas militants that it says killed 1 200 people and took about 240 hostages.
Gaza's health ministry, whose data the United Nations has deemed broadly reliable, said on Monday that at least 15 899 Palestinians, 70% of them women or people under 18 whom it defines as children, have been killed in Israeli bombardments over eight weeks of warfare.
The Israeli military's offensive in northern Gaza began with intense aerial bombardment, then a large-scale ground incursion that ultimately saw Israeli forces surround and enter Gaza City, the largest settlement in the enclave.
Israeli officials say they are conducting operations in the south differently, allowing more time for non-combatants in combat areas to evacuate, but can't promise to eliminate civilian casualties.
"We are going to continue with our campaign to destroy Hamas, a campaign that the United States sees eye to eye with us about," Israeli government spokesperson Eylon Levy said on Tuesday. He repeated Israeli accusations that Hamas uses woman and children as human shields.
On Friday, Israel's military began posting grid-based maps online ordering Palestinians to leave parts of southern Gaza, directing them towards the Mediterranean coast and Rafah, near the Egyptian border. Some residents said the so-called "safe areas" where they told to go also came under fire that caused casualties.
U.S. National Security Advisor Jake Sullivan said on Monday that Washington expects the Israelis to follow through on not attacking those areas.
A second U.S. official said the fact that Israel was being more deliberate in saying what areas civilians should avoid was a sign U.S. pressure was working. The official said the U.S. wants Israel to be more precise with its strikes in southern Gaza, but it was too early to tell whether Israel had taken this advice on board.
Residents and journalists on the ground said intense Israeli airstrikes hit southern Gaza on Monday, killing and wounding dozens of Palestinians.
"All indications and reports suggest that the same pattern – of dropping heavy duty bombs and using artillery in densely populated areas – is continuing" since Israel's offensive resumed, said Omar Shakir, Israel and Palestine Director at Human Rights Watch. On Tuesday, Amnesty International said it had found that U.S.-made munitions had killed 43 civilians in two Israeli air strikes in Gaza.
Source: eNCA
In other news – Zahara's family banned from seeing the singer in hospital
Zahara's fiance,  Mpho Xaba has banned the singer's family from visiting her in the hospital. A few weeks ago, it was announced that the South African star, whose real name is Bulelwa Mkutukana is hospitalized and in a critical state due to liver-related complications.
However, the family requested privacy and prayers till their daughter recovered. It was also reported that the fiance is being supportive and ensuring that she gets well. Zimoja recently dropped an update about how Mpho pulls the plug on Bulelwa's family. Read more