Venezuela seizes control of gang-run prison with pool, disco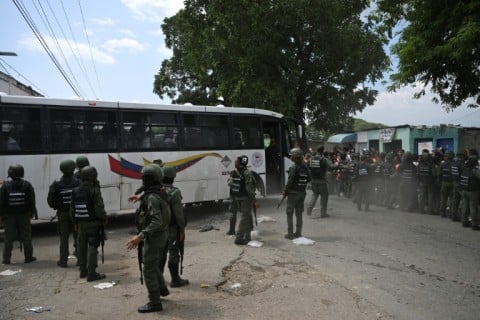 Venezuela said Wednesday it had seized control of a prison from the hands of a powerful gang with international reach, in a major operation involving 11,000 members of its security forces. The Tocoron prison had served as the Tren de Aragua gang's headquarters, where it had installed amenities such as a zoo, a pool and gambling rooms, according to an investigative journalist recently interviewed by AFP.
In a statement, the government congratulated law enforcement officers for regaining "total control" of the prison in the northern state of Aragua, adding the operation had "dismantled a center of conspiracy and crime."
In an official proclamation, President Nicolas Maduro praised "today's great success in the fight against criminal organizations."
After the government announced a complete evacuation of the jail, Interior Minister Remigio Ceballos told state broadcaster VTV that the inmates were being transferred to another facility. Dozens of relatives who had been living inside the prison with sentenced inmates gathered outside for news.
"I am waiting to hear where they are taking my husband… I was living in there, but they kicked us out," said Gladys Hernandez. An AFP team saw security officers carrying motorcycles, televisions, air conditioners and microwaves out of the jail. That's ours!" shouted one of the women outside.
It appeared some inmates escaped during the operation, as a later government statement announced a "second phase" of the operation for the "search and capture" of "fugitive criminals. Tren de Aragua, Venezuela's most powerful local gang, is involved in crime countrywide and has spread its tentacles to neighboring nations.
According to an investigation by Venezuelan journalist Ronna Risquez, the gang has some 5,000 members. It emerged a decade ago, and is involved in kidnappings, robberies, drug trafficking, prostitution and extortion. Tren de Aragua is also connected to illegal gold mining.
Source: eNCA
In other news – Priddy Ugly roasted for not cheating or fighting his wife of 11 years, Bontle Modiselle
South African actress, television presenter, radio personality, dancer, choreographer, singer, and model, Bontle Modiselle opens up about the peace in her relationship with Priddy Ugly over the past eleven years.
A video clip of her interview with Mac G surfaced on social media and some people were amazed by her revelations. Read more
Teenager shoots student dead at Russian school before killing herself
A 14-year-old girl shot a fellow pupil dead and wounded five other children today before killing herself at a school in the Russian city of Bryansk, officials said.
"According to preliminary investigation data, a 14-year-old girl brought a pump-action shotgun to school, from which she fired shots at her classmates," Russia's Investigative Committee said in a statement.
Investigators were working to establish the motive, the statement said. Regional governor Alexander Bogomaz called it a "terrible tragedy." He said the five people wounded were all children with mild or moderate injuries.
The news outlet Mash published what it said was a photograph of the dead shooter, sprawled on the floor and dressed all in black. It said she was also armed with a hunting knife.
The photo appeared to show a long-handled knife tucked into her right boot.
Guns are normally tightly controlled in Russia, but Bryansk is one of several southern regions that have seen cross-border attacks in the course of the war with Ukraine, and where Moscow has encouraged the formation of self-defence units.
"Together with law enforcement agencies, we are determining the circumstances under which the student was able to obtain and bring a weapon to school," Bogomaz said.
Russia has seen several school shootings in recent years.
In 2018, an 18-year-old student killed 20 people, mostly fellow pupils, in a mass shooting at a college in Russian-occupied Crimea, which Moscow seized from Ukraine in 2014.
In September last year, a gunman with a swastika on his teeshirt killed 15 people, including 11 children, and wounded 24 at a school in Izhevsk where he had once been a pupil, and then committed suicide, investigators said.
Source: eNCA
In other news – Mzansi concerned for Zahara who's reportedly fighting for her life
South Africans are praying for award-winning musician Bulelwa Mkutukana aka Zahara who was admitted into hospital and transferred to ICU after falling seriously ill.
A source from the hospital revealed to Zimoja on Sunday, 3 December that chances of Zahara spending Christmas in hospital are high after she was admitted a fortnight ago with a liver-related complications. Read more
EU crisis management chief slams attack on West Bank school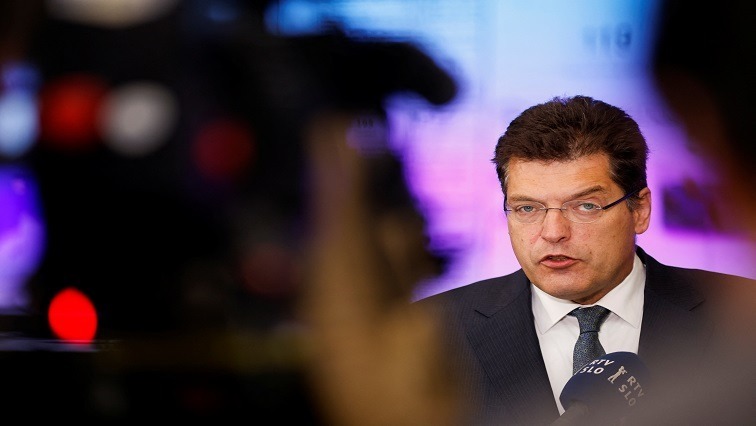 The European Union's commissioner in charge of the bloc's crisis management condemned on Wednesday an attack by Israeli settlers on a school in Zanuta, a Palestinian village situated in the Israeli military-occupied West Bank.
"Israeli settlers demolished a school in Zamuta, a village in the occupied #Palestinian Territory," Janez Lenarcic, the EU's Commissioner for Crisis Management, wrote on social media platform X, using an alternative spelling for Zanuta. The school was built by EU funds – because every child, everywhere has a right to education. This destruction is intolerable and a violation of International Humanitarian Law," added Lenarcic, who also deals with humanitarian aid.
Earlier this week, the United States began imposing visa bans on people involved in violence in the West Bank, after it and other countries appealed to Israel to do more to prevent violence by extremist Jewish settlers against Palestinians.
The Israel military occupied the West Bank, which Palestinians want as the core of an independent state, in a 1967 Middle East war. Israeli settlers have since built Jewish settlements there that most countries deem illegal. Israel disputes this and cites historical and biblical ties to the land.
The West Bank is home to 3 million Palestinians who live among more than half a million Jewish settlers. Continued settlement expansion is one of the most contentious issues between Israel, Palestinians and the international community.
Source: eNCA
In other news – No girlfriend allowance from Sjava
Well-known South African singer and rapper, Sjava doesn't support the idea of giving girlfriends allowances.
The musician made this known while speaking on a media platform. Read more