Idris Elba in therapy to cure work addiction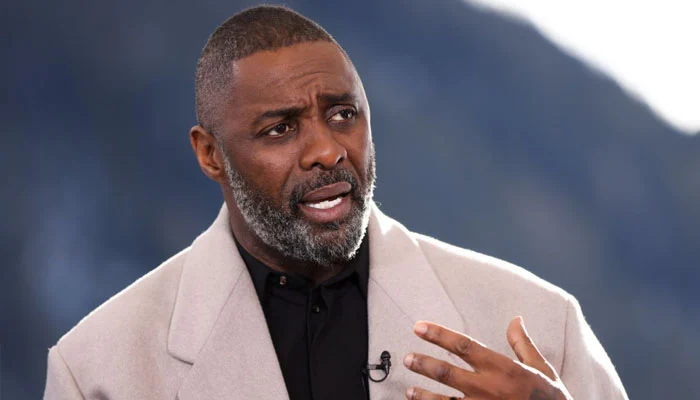 Idris Elba has confessed that he's an "absolute workaholic," and he's getting help for that. The Luther star shared that he's getting therapy to change some of his habits that are "unhealthy," including his habit of working a lot.
In an interview with the Changes podcast, the 51-year-old star shared that he's been focusing on changing himself, adding, "It's not because I don't like myself or anything like that, it's just because I have some unhealthy habits that have really formed."
He then reflected that his overworking issue is made worse by the way Hollywood functions, rewarding him for it. And I work in an industry that I'm rewarded for those unhealthy habits, I'm rewarded for that."
"Whether it's to be selfish, or [because] I'm a workaholic. I'm an absolute workaholic, and that isn't great for life generally," he continued.
"Nothing that's too extreme is good, everything needs balance," the award winning actor said, adding "but I'm rewarded massively to be a workaholic [compared] to someone that's like 'er, I'm not going to see my family for six months' and I'm in there grinding and making a new family and leave them."
He then reflected on how "a lot of our childhood is really at the root of it .When asked if he would consider working less, Idris replied: "Work less? Come on. He shared that the activities that he finds relaxing "end up being work."
"My studio in my house, I just love being in here. I'll open that laptop and be like 'I don't know what to make today' and it'll come out like this or that," he explained. And I'm exhilarated by that and also so relaxed by it."
"I could work 10 days on a film, underwater sequences holding my breath for six minutes, and come back and sit in [his studio] and [feel relaxed], more so than sitting on the sofa with the family – which is bad right?" This is the part where I've got to normalise what makes me relaxed, it can't be all work."
Idris has a son who is 31 years old but has not publicly disclosed his name. The actor also has a daughter named Isan and a son named Winston, both from previous relationships. In 2019, he married his third wife, Canadian model Sabrina Dhowre.
Source: People
In other news – Bonang Matheba debuts at Paris Fashion Week runway
In the heart of Paris, against the iconic backdrop of the Eiffel Tower, Paris Fashion Week recently witnessed a remarkable moment of African representation. South African media personality Bonang Matheba, often hailed as the 'Queen B' of the entertainment world, made her runway debut at the prestigious Le Défilé runway show hosted by L'Oréal Paris.
This momentous occasion not only marked her transition to the global fashion stage but also celebrated the significance of diversity and inclusivity in the industry. Bonang Matheba's runway debut was a resounding statement of African excellence at one of the world's most renowned fashion events. Read more
Kim Kardashian left heartbroken
Kim Kardashian was reportedly left heartbroken after her daughter, North West, told her she wanted to live with her controversial father, Kanye West. According to Life & Style, the reality TV megastar always feared her kids, North, Saint, Chicago, and Psalm, would one day choose their father over her.
In a recent episode of her hit reality TV show, The Kardashians, the Skim founder revealed how her 10-year-old prefers to live in Kanye's apartment than Kim's luxury house. Kim said North wants a simpler lifestyle with no nannies, no chef and no security. "She'll start crying, 'Why don't you have an apartment? I can't believe we don't have an apartment.'" she said of her eldest daughter.
Speaking on the matter, the tipster said, "North wants a simpler life, to be a kid in a normal home, but it's breaking Kim's heart to hear her say those things. That's Kim's greatest fear — having her kids pick Kanye over her," the insider revealed.
It is pertinent to note how close of a bond North has developed with Kanye's new wife, Bianca Censori, which is another stressful matter for Kim. A source told Star Magazine, "Kim thinks Bianca is getting too close to her daughter," adding that she is "definitely jealous" of the new woman in Kanye's life.
Source: People
In other news – Jennifer Lopez sets the record straight on Ben Affleck's love letter
Two decades ago, Ben Affleck wrote a love letter to Jennifer Lopez. Fast-forward to today, the latter's new album teaser saw her burning a letter, which led some to believe it was his husband's old letter. Now, she is clarifying.
Speaking at the ELLE Women in Hollywood Awards red carpet, the Grammy winner shared, "That was a prop! Read more
Brad Pitt trying to cool off the heat with son Maddox amid memoir rumours
Brad Pitt is desperately trying to fix his strained relationship with his and Angelina Jolie's eldest adopted son, Maddox Jolie-Pitt, amid rumours he is writing a memoir. According to a report by OK! Magazine, the 22-year-old is writing an explosive tell-all to expose the Curious Case of Benjamin Button star.
The alleged book is set to explore Maddox's relationship with Brad Pitt and their now-infamous plane fight in 2016, during which the actor reportedly abused Jolie and his kids.
Meanwhile, the same publication said that Pitt is working to cool off the heat with Maddox by taking "full responsibility" of their 2016 fight. The insider said that while Pitt's older kids, Maddox, Zahara, and Pax, seems to be against him, he is on good terms with his younger children, Shiloh, Vivienna, and Knox.
"He's on good terms with them. He lost a lot of precious time with them during the custody battle, and he's determined not to miss any more," the source said.
"Brad's taken full responsibility for his actions," the insider said, adding that it's now up to his kids "to make up their own minds about him and see him for who he is.
Source: people
In other news – Emtee plans to move out of South Africa
Emtee reveals he will be relocating to another country, but he will keep representing South Africa wherever he is. The rapper made this known on Wednesday while tweeting his next plan.
Emtee whose real name is Ndevu Mthembeni says he wants to move out of SA because of the death threats. Read more