Basetsana and Romeo Kumalo celebrate victory against Jackie Phamotse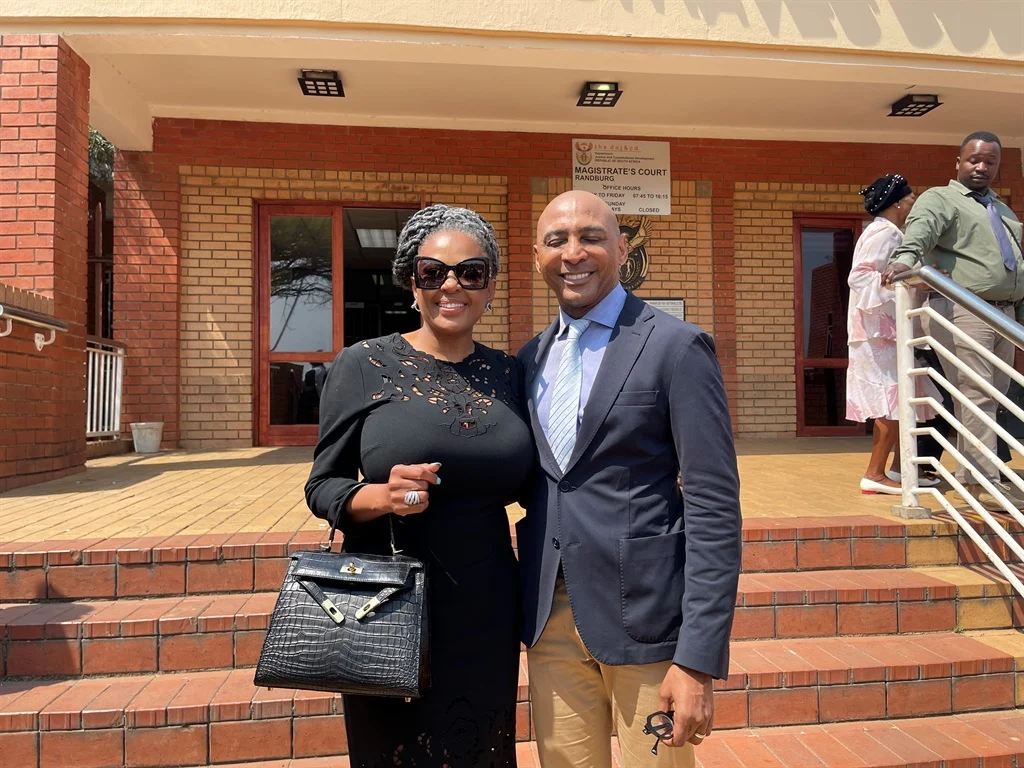 Basetsana and Romeo Kumalo released an official statement after winning the case against Jackie Phamotse. On Tuesday, Jackie was found guilty on two counts of Crimen injuria. The couple expressed excitement as they finally gained victory after 5 years, and in October Jackie will get sentenced.
Statement of Mr. and Mrs. Romeo and Basetsana Kumalo on the outcome of the court proceedings involving Ms. Jackie Phamotse September 21, 2023
Mr. and Mrs. Kumalo welcome the outcome of the proceedings involving a case of defamation against Ms. Jackie Phamotse. The court has found Ms. Phamotse guilty on two counts of Crimen injuria, one count of Criminal Defamation and one count of Contempt of Court.
We are relieved that the saga has now been dispensed with and that our families can start a moment of reflection, healing, and recovery. This ordeal has been a severe test on the bonds of family and friends. Our children have been devastatingly impacted by these damning allegations. We watched with pain, their psychological beings, social lives and self-esteem taking unimaginable knocks. As businesspeople, our ability to pursue sustainable livelihoods were hamstrung, with some business prospects being brought to a halt.
We are grateful for the immense support received from family, friends and the greater South African community at large. We wish to appeal to South Africans to exercise extreme caution when using social media platforms, to at least desist from bullying, making false claims and defamatory remarks about other fellow citizens. Social media remains a powerful avenue through which we can empower and educate each other. It is therefore critical that it is not used as an outlet to defame, disparage, and besmirch.
The South African Justice system remains one the most resilient in the world. We appreciate the diligence with which the matter was dealt with and hope that true to form, the courts will continue to adjudicate on these matters with a fastidious, steady, and stern hand." – said the Kumalo's The matter has been on the roll for almost five years and sentencing is expected to be handed down on 24 October 2023.
In other news – DStv Delicious Food and Music Fest 2023 happening this weekend
DStv Delicious International Food and Music Festival is back this year and it will take place on September 23-24 at the Kyalami Grand Prix Circuit.
American multi-platinum soul singer Maxwell, Nigerian singer-songwriter Tems, American jazz pianist Robert Glasper and South African Afro-house hit maker Zakes Bantwini are on the lineup. Read more
Bontle Modiselle reveals she has never fought or screamed at husband, Priddy Ugly
Mzansi actress, television presenter, radio personality, dancer, choreographer, singer, and model, Bontle Modiselle recently visited Podcast and Chill with MacG and discussed her relationship with Priddy Ugly, real name Ricardo Moloi. According to the famous dancer, she and the rapper have never had one fight since the start of their 14-year-long relationship.
While some people have trolled the young couple and accused Bontle of lying about the matter, others have shared hopes of having the same kind of relationship. Jokingly, some asked how she prayed for this kind of romance.
When it comes to relationships, love, and romance, it is completely normal for couples to lose themselves.
More often than not, arguments and fights ensue when certain needs and expectations from each other are not met.
A good relationship requires communication but even when there is good communication, fights are still part of most relationships.
This is why when local media personality Bontle Modiselle told MacG that she and her husband Priddy Ugly never fight — many didn't believe her.
According to Bontle who shares a young daughter, Afrika, with the musician, they started dating in 2009 and never had a fight.
Watch:
Source: News365.co.za
In other news – Ntando Duma head over heels in love with her unknown man
Well-known Mzansi actress and singer, Ntando Duma says she is happily in love as she has found a partner who practises good communication in their relationship.
This after a video of Bontle Moloi, née Modiselle, talking about how she and her husband rapper Priddy Ugly navigate disagreements during an interview on Podcast and Chill resurfaced on the X timeline on Tuesday. "We don't fight. We disagree, but we don't fight. He's never raised his voice, I've never raised my voice. Read More
Ayanda Ncwane confirms new relationship
Ayanda Ncwane has been keeping her private life under wraps, leaving many to guess. Ncwane is topping trends in the backdrop of her interview on Mzansi Magic Sip & Talk show.
Over the years, Mzansi has been trying to connect the dots about her new boyfriend but is hitting a dead end. Ayanda Ncwane has set the record straight about her love life and has made it known that there is a new man in her life. She was married to multi-award-winning gospel singer Sfiso Ncwane. Ncwane died in 2016 following health complications at his Johannesburg house. Ayanda has been flying solo for the past seven years since the untimely death of her husband.
While on Sip and Talk, anchored by Dineo Ranaka, the bubbly reality star disclosed that she has finally found a man but would keep his identity under wraps for now. She went on to reveal that he was "a good kisser". Ayanda Ncwane confirmed her new relationship and is now off the market.Ncwane said, "Oh yes, I'm happy to tell you I have found love, finally. Even the Bible says there's time for grieving and mourning. I believe I have mourned my husband enough. After lengthy pondering, I felt it wise to dust myself off and move on with my life."
However, she said she will reveal much about her new man when the time is right. She also made it known that she was in good books with her mother-in-law despite their rumoured fallout in the backdrop of Sfiso Ncwane's death.
The interview has gained thousands of comments and reactions since it dropped on the Internet. Ayanda and Sfiso have two sons. A few months ago, a rumour mill had it that one of their sons followed in his late father's footsteps as he embarked on a singing career.
Source:  News365
In other news – Emtee plans to move out of South Africa
Emtee reveals he will be relocating to another country, but he will keep representing South Africa wherever he is. The rapper made this known on Wednesday while tweeting his next plan.
Emtee whose real name is Ndevu Mthembeni says he wants to move out of SA because of the death threats. Read more