Watch: MacG's drunk video has Mzansi in stitches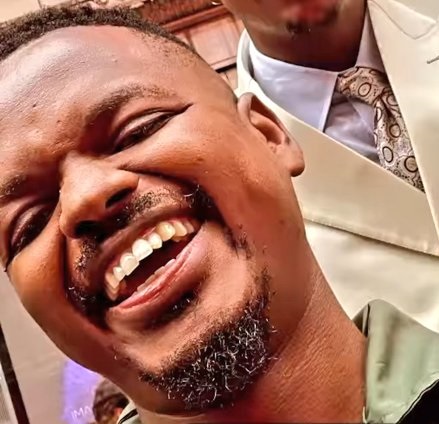 Macgyver Mukwevho aka MacG, the Podcast and Chill with MacG host is topping trends after his intoxicated video made rounds on social media.
He has often seen himself making all sorts of headliners for the wrong reasons since his thrust into the limelight. MacG is topping trends after his intoxicated video left Mzansi in stitches.
No doubt MacG's drunk video has gained several reactions and shares since DJ Tira dropped it on his Instagram.
The two are living it up in New York, and it seems MacG might have had more drinks than he intended.
MacG even tried to pull some dance moves, but he failed dismally and could hardly pull his signature laugh. He was seemingly drunk, could hardly walk, and could not maintain his balance. Many flooded the comments section to share their thoughts.
Watch:
However, many were not puzzled by the viral video since he is always drunk. MacG is reportedly always drunk and intoxicated; many credit his lines and puns to that.
Others were more than convinced he had joined the 'Big League.'
A few months ago, DJ Tira hogged headlines when his viral video heavily drunk made rounds on social media.
Twitter was set ablaze after one user shared the video of the DJ struggling to walk.
Waze wamnandi uMtirmane 👌👌👌🤣🤣🤣🤣 pic.twitter.com/pZVQDLra7i

— Bhut' uNduuh (@Nduuh_Masondo) April 6, 2023
According to Fakaza, Tira launched his premium cider Bearings Cyder, sold in selected South African stores. No doubt he is expanding his business empire of late.
In other news – Photos: Kelly Khumalo shares a glimpse of her new baby
South African singer, songwriter, actress, and dancer, Kelly Khumalo has given the public a glimpse at her baby girl, and her fans are gushing over the sweet celebrity tot!
The singer reportedly gave birth to a baby girl last month with rumoured baby daddy former Kaizer Chiefs midfielder Mthokozisi Yende. In her recent Instagram post, Kelly Khumalo posted a picture of her out and about with her baby girl. According to a local publication, Kelly gave birth via a C-Section in April. Learn More
Bontle Modiselle reveals she has never fought or screamed at husband, Priddy Ugly
Mzansi actress, television presenter, radio personality, dancer, choreographer, singer, and model, Bontle Modiselle recently visited Podcast and Chill with MacG and discussed her relationship with Priddy Ugly, real name Ricardo Moloi. According to the famous dancer, she and the rapper have never had one fight since the start of their 14-year-long relationship.
While some people have trolled the young couple and accused Bontle of lying about the matter, others have shared hopes of having the same kind of relationship. Jokingly, some asked how she prayed for this kind of romance.
When it comes to relationships, love, and romance, it is completely normal for couples to lose themselves.
More often than not, arguments and fights ensue when certain needs and expectations from each other are not met.
A good relationship requires communication but even when there is good communication, fights are still part of most relationships.
This is why when local media personality Bontle Modiselle told MacG that she and her husband Priddy Ugly never fight — many didn't believe her.
According to Bontle who shares a young daughter, Afrika, with the musician, they started dating in 2009 and never had a fight.
Watch:
Source: News365.co.za
In other news – Ntando Duma head over heels in love with her unknown man
Well-known Mzansi actress and singer, Ntando Duma says she is happily in love as she has found a partner who practises good communication in their relationship.
This after a video of Bontle Moloi, née Modiselle, talking about how she and her husband rapper Priddy Ugly navigate disagreements during an interview on Podcast and Chill resurfaced on the X timeline on Tuesday. "We don't fight. We disagree, but we don't fight. He's never raised his voice, I've never raised my voice. Read More
Ayanda Ncwane confirms new relationship
Ayanda Ncwane has been keeping her private life under wraps, leaving many to guess. Ncwane is topping trends in the backdrop of her interview on Mzansi Magic Sip & Talk show.
Over the years, Mzansi has been trying to connect the dots about her new boyfriend but is hitting a dead end. Ayanda Ncwane has set the record straight about her love life and has made it known that there is a new man in her life. She was married to multi-award-winning gospel singer Sfiso Ncwane. Ncwane died in 2016 following health complications at his Johannesburg house. Ayanda has been flying solo for the past seven years since the untimely death of her husband.
While on Sip and Talk, anchored by Dineo Ranaka, the bubbly reality star disclosed that she has finally found a man but would keep his identity under wraps for now. She went on to reveal that he was "a good kisser". Ayanda Ncwane confirmed her new relationship and is now off the market.Ncwane said, "Oh yes, I'm happy to tell you I have found love, finally. Even the Bible says there's time for grieving and mourning. I believe I have mourned my husband enough. After lengthy pondering, I felt it wise to dust myself off and move on with my life."
However, she said she will reveal much about her new man when the time is right. She also made it known that she was in good books with her mother-in-law despite their rumoured fallout in the backdrop of Sfiso Ncwane's death.
The interview has gained thousands of comments and reactions since it dropped on the Internet. Ayanda and Sfiso have two sons. A few months ago, a rumour mill had it that one of their sons followed in his late father's footsteps as he embarked on a singing career.
Source:  News365
In other news – Emtee plans to move out of South Africa
Emtee reveals he will be relocating to another country, but he will keep representing South Africa wherever he is. The rapper made this known on Wednesday while tweeting his next plan.
Emtee whose real name is Ndevu Mthembeni says he wants to move out of SA because of the death threats. Read more